FINALLY!!!

!!!!!!!!!!!I'M BACK ON DEVIANTART!!!!!!!!!!!!!!!!!!!!


The other announcement: I'M IN ICELAND!!!!!!!!!!!!! FOR 2 MONTHS!!!!!!!!!!
</i>
So i thought it'd be nice to share some of my impressions of this amazing country with you.

Hope you enjoy the pictures!!!
THE PLACE WHERE I WORK AND LIVE
I live and work as a mounted tour guide at Íshestar Riding Tours in Hafnarfjörður, only a stone-throw away from Reykjavík. For me it's one of the best summerjobs i've had so far!!!

I ride at least 3 times a day, get to know a lot of people from all over the world, have the opportunity to refresh and improve my language skills in Icelandic and the best thing is that i get enough spare time to visit the gorgeous countryside and historical sites in the surroundings!!!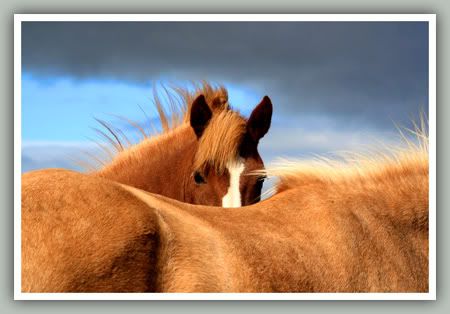 REYKJAVIK
The capital city of Iceland is one of the cutest i've ever seen! Nearly 2/3 of the whole poulation of Iceland is living there and you can thus marvel at different house building types and colors. Icelanders are really creative!

And not to forget to mention the bars and cafés! And of course the famous nightlife in Reykjavík!!!

THINGVELLIR
The famous place where the Alþing, the general assembly was established around 930 (see
Íslendinga saga
and
Landnámabók
). All major events in the history of Iceland have taken place at Þingvellir and nearly all the Icelandic sagas record events that have taken place at this site.
Fishermen at Þingvallavatn. This picture (taken during the busride - came out pretty well though: many thanks to my new camera

) will be uploaded in bigger format soon...
GULLFOSS
The best-know waterfall in Iceland - thanks to the wonderful weather you could even see some rainbows over the water which gave the whole scene a magical touch! See also in the picture below!
GEYSIR
A picture of Strokkur, the most active geysir in the Haukadalur area. It erupts roughly every 10 minutes.


So that's all for this time. I hope you enjoyed it. More to come soon!